A#AMVCA2016
have officially kicked off and this year the red carpet hosts are
Eku Edewor
and
Ozzy Agu
on one end,
Helen Paul
and
Uti Nwachukwu
on another while
Veronica Odeka
and
Denola Grey
are taking on the different styles in their Fashion Police corner.
– The official hashtag for the event has been announced as #AMVCA2016 and Eku Edewor and Ozzy Agu have taken the first red carpet selfie to kick things off.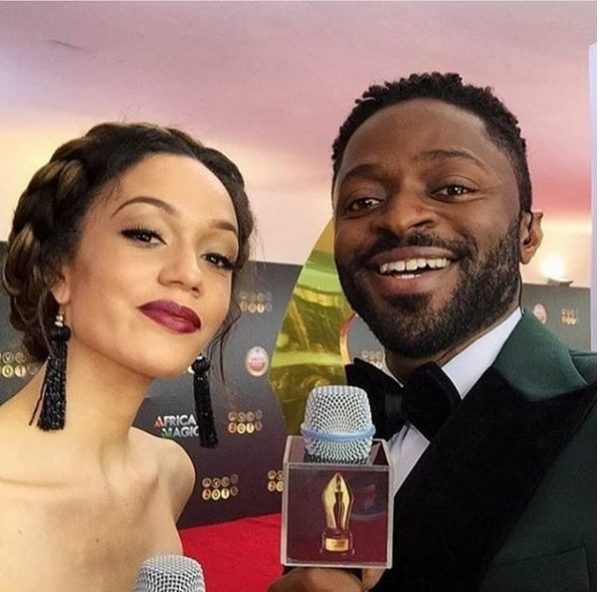 First Red Carpet Selfie of the Night
– Eku Edewor is having a chat with
John Ube
, who looks extra dapper in Tayor Gabriels
– Host of the night
Ik Osakioduwa
(in Mai Atafo) just walked the red carpet with wife,
Olohi.
Ik says "She looks better than I do"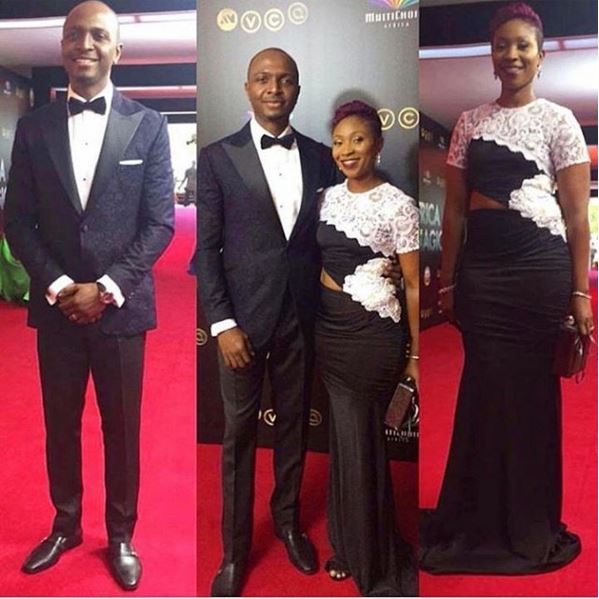 – The glam team, Veronica and Denola, have shared a quick recap of last year's African looks from men.
– Actor
Daniel K. Daniel
looking very interesting in a bold floral tuxedo for red carpet as he chats with Eku Edewor.
– Meanwhile, on the inside, the final touches are happening.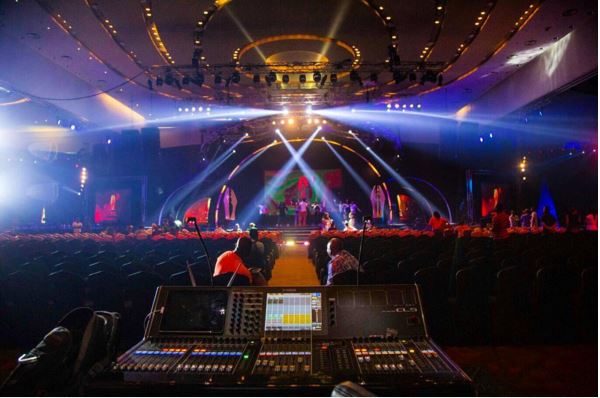 4:45 PM
–
Falz
just stepped up on the red carpet in a mustard suit. He brought his hilarious accent along too.
4:58 PM
–
Funke Akindele
looks amazing!! She's in a green and silver floor-length sequin dress.
4:58 PM
– Ozzy Agu can't stop gushing about her. Someone has a crush…
5:02 PM
– Another big star just stepped up on the red carpet. It's
Wangi Mba-Uzoukwu
, the Director of Mnet West Africa. She's styled in a gorgeous blue dress from Valerie Davis, accessorized with a Fendi clutch. On we should anticipate tonight she says a lot of work has gone into this year and it is a fun packed show.
5:02 PM
– Helen Paul and Uti Nwachukwu are chatting with actress Mercy Aigbe Gentry who looks gorgeous in House of Liminee.
5:06 PM
– Opening act for the show
Yemi Alade
is on the red carpet with Ozzy Agu right now.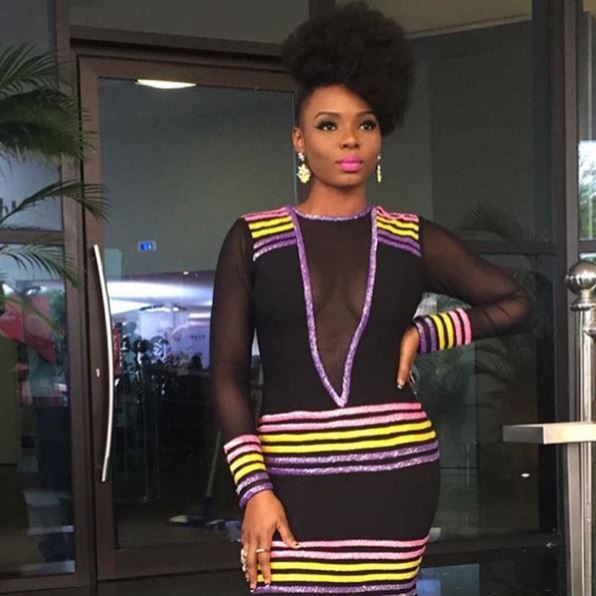 5:09 PM
– A quick commercial break
5:14 PM
– And we are back with
Mike Ezuruonye
chatting with Eku Edewor on the red carpet.
5:18 PM
– South African
Minnie Dlamini
is on the red carpet and she is dazzling. She will be co-hosting the show for the first time with Ik Osakioduwa. She says she can't wait to feel the energy from the audience.
5:30 PM
–
Mai Atafo
is on the red carpet with his famous tassled shoes. He's talking about the men he has styled tonight – Ozzy Agu, Chris Attoh, Ik Osakioduwa and more.
5;34 PM
– Another commercial break.
5:34 PM
– Be sure to keep up with all the fab styles on our Instagram page as well guys.
5:35 PM
– And we're back!
5:40 PM
– Eku Edewor is chatting with
Adesua Etomi
who has been nominated for Best Actress for "Fallen". Interestingly she already has her winning speech prepared, just in case. We love that.
5:47 PM
– The red carpet is still going on.
Blessing Egbe
is chatting with Helen Paul and Uti about her movie "Iquo's Journal" which is nominated. She says even if she doesn't win, just being nominated is a win.
5:49 PM
– Eku Edewor has
Ramsey Nouah
on the red carpet and she says he doesn't seem to age. Is he a vampire? She wants to know.
5:50 PM
– Ramsey Nouah just revealed he is doing a short film and a serial this year. Whoop!
5:53 PM
– We just caught a climpse of
Rita Dominic
in
Elvira Jude
on the red carpet and she killed it. She looked so awesome that they are doing a quick recap of her AMVCA style.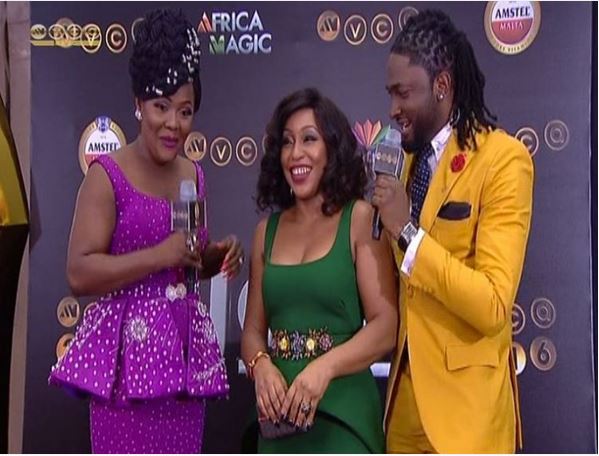 5:58 PM
– Rita Dominic is chatting with Helen Paul and Uti Nwachukwu.
6:02 PM
– Another quick commercial break
6:10 PM
–
Ego Boyo
has a chat with Ozzy Agu, looking stunning in a piece from House of Deola. She will be presenting the "Merit Award" tonight.
6:16 PM
–
Stephanie Linus
just made her first red carpet debut at the AMVCAs since having her baby boy 4 months ago and we have to say she looks gorgeous in a bedazzled green dress from Lisa Folawiyo.