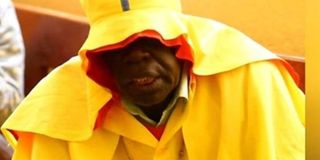 Mfuasi wa kanisa 'Legion of Mary' Jacob Wekesa (66), anayejitambulisha kama 'Nabii,' amejikuta katika wakati mgumu baada ya mahakama mjini Nakuru, kumtia hatiani kwa makosa ya ubakaji na unyanyasaji wa kingono.
Wekesa ambaye ana ulemavu wa macho, amekuwa akidai kuwa na uwezo wa kutambua matatizo ya afya ya uzazi kwa wanawake kupitia macho yake ya kiroho, anatuhumiwa kubaka wasichana wawili ndugu.
Japokuwa amekana mashtaka yake, Mahakama mjini hapa, imekuta na hatia ya kuwabaka mabinti hao toka katika familia ambayo ilikuwa imekaribisha 'nabii' huyo ambapo alishii nao kwa muda wa kama wiki moja kabla ya kupatwa madhila hayo.
Mwanaume huyo ambaye hupenda kuvaa mavazi ya mtindo wa 'kikasisi' yakiwa na nembo ya msalaba, anapambana kujiokoa kutoka katika kifungo cha muda mrefu iwapo mahakama itashawishiwa na upande wa mashtaka.
Masahibu yake yanasemekana kuanza siku ya mwaka mpya alipozuru nyumbani kwa mmoja wa wafuasi wake, Sarah Atieno mkazi kaunti ndogo ya Njoro, kwa lengo la kuwafanyia maombi binti wawili wa mama huyo.
Kwa mujibu wa hati ya mashtaka, ni katika kipindi alichokaa na familia hiyo, ndipo mnamo Januari 5, 2023; mzee huyo wa miaka 66 alidaiwa kutenda makosa hayo dhidi wasichana hao wawili, watoto wa Sarah.
Mtandao wa Nation unabaisha kuwa, hati hiyo ya mashtaka imeweka wazi kuwa Wekesa anadaiwa kufanya mapenzi kwa makusudi na wasichana hao kinyume na matakwa yao katika uwanja wa 'Golf Estate' huko Njoro, japo anakanusha shtaka hilo.
Akitoa ushahidi mbele ya Mahakama hiyo, mmoja wa waathirika amesema 'nabii' huyo alipelekwa nyumbani kwao na mama yake mzazi, huku akidai kuwa ni nabii wa kutoka kanisa la Legion of Mary.
Binti huyo aliendelea kuielezea mahakama kuwa 'Nabii' huyo ambaye ni mlemavu wa macho (kipofu), alikaribishwa na kutengewa chumba kilichokuwa jirani na chumba cha wasichana hao.
Credit; Mwananchi
#KoncepttvUpdates