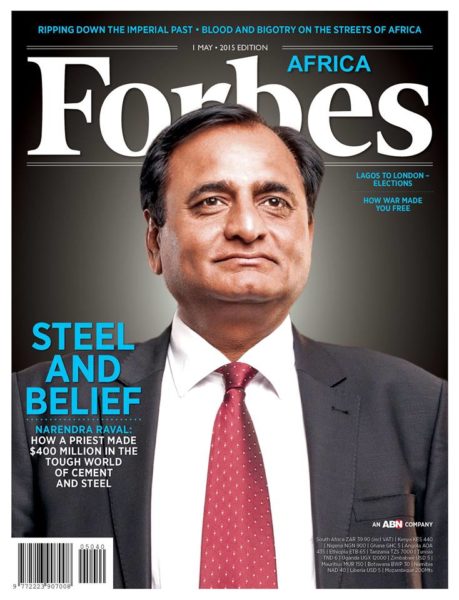 For the May issue of

Forbes Africa

, the magazine has placed one of Kenya's top entrepreneurs

Narendra Raval

on the cover.
Narendra can easily be described as the priest who made $400 million in the tough world of cement and steel.
He started the business with his wife in a small store and has turned it into one of the biggest producers of construction materials in Africa. The Kenyan's business is so successful that he was able to snub an offer from Africa's richest man,

Aliko Dangote

.
Also in this issue, Forbes Africa takes a look at blood and bigotry on the streets of Africa, from the Al Shabaab attacks in Kenya to the xenophobic violence in South Africa.
Speaking on this issue is

Chris Bishop

, Managing Editor of Forbes Africa: "Many of the stories are unsettling in this issue. Tales of militancy and murder from Kenya and depressing xenophobia in South Africa, but I believe it is our duty as a serious publication to cover the ugly side of the story in Africa as well as the hopeful stories of business success."
Forbes Africa also highlights the elections in Lagos and London and what role they will play on the continent.
For more information, visit www.forbesafrica.com